As Valentine's Day approaches and thoughts turn to ways to celebrate the loves of our lives, we're not going to limit our Valentine's Day event ideas solely to a romantic kind of love. There are all types of love that we could be celebrating and encouraging. This isn't to say we're not going to include romantic love — after all, it is Valentine's Day. But let's not forget the other people and things we love. One way to celebrate them is to create an event that gives attendees the opportunity to express and share what's special in their lives.
We've got a host of event planning ideas for Valentine's Day events that are sure to get loved ones of all kinds out and about and celebrating love.
Pets are the purest kind of love
People love their pets, so Valentine's Day events focused on pets can be a great way to let people celebrate and share their love for their furry companions.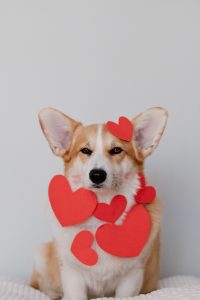 Valentine's Day adoption event
Who can resist a pet adoption event? Contact local animal shelters about including the animals in their care, and ask local park officials or a pet supply store about space for hosting. A pet supply store might especially be interested in hosting an event that can bring potential customers into their store.
Photobooth for pets
Everyone's familiar with an instant photo booth where you and your friends make a bunch of goofy faces before the camera and get a strip of four or five photos in return. Now set up a booth for pets and watch as guests crowd to get pics of their pets with the same goofy sunglasses, hats, and other props you always find in a well-stocked photo booth. Set up the booth as an annex to your pet adoption event, or contact a pet store or veterinarian's office about hosting the event.
Singles night at the dog park
Dogs make the perfect icebreaker, with all their charm and mischief. Hold a singles night event at a dog park and watch couples mingle as their hounds, pugs, and boxers do the same. Set up treat centers, toy corners, and other special areas to add interest and variety. And definitely be sure to take full advantage of parks that separate small and large dogs — you don't want singles night to end up at the vet's office.
Fun for all ages
There's no reason to exclude senior citizens or school kids in the Valentine's Day fun. In fact, because so many events focus on couples, there could be a bigger opportunity for Valentine's Day family events that put the spotlight on the love for our elders and our kids.

Prom night part II
Set up at a community or church hall and host a senior prom. Retirees and other senior citizens will relish the chance to relive a part of their youth, and it's a great way for them to get out and about, too. Make sure to post ads around retirement homes, veterans' centers, and in church bulletins. Include live retro music and romantic lighting for the full effect.
Retro-style date night
Turn the clock back on date night and let the fun begin. Rent out a roller rink and turn on the disco music to flashback to simpler times, or invite your community to gather at a '50s style diner for malts and to show off local hot rods.
Valentine's game night
Host a game night or bingo tournament and invite both seniors and kids. Watch how the older folks get rejuvenated interacting with young kids and how the kids enjoy being with people who might remind them of their grandparents. Break out classic games like Monopoly, Life, Snakes and Ladders, and the like, or go for modern classics like Settlers of Catan.
Kids' night while Mom and Dad go out
One of the reasons Valentine's Day focuses on young people is because they're free to go out. But parents want to celebrate, too, and you can make that possible by hosting an event designed especially for kids. Rent a bounce house, supply a video game console and screen, or set up an indoor Nerf basketball court. Be sure to check with local regulations about any supervision requirements that may be necessary.
Baker's special
Host a "learn how to bake" event where the whole family can learn the basics of turning dough into deliciousness. Make it the introduction to a series, and progress from quick bread to sourdoughs and French rolls, or turn your attention to dessert and make cakes, pies, tarts, and even a soufflé. Community centers, church halls, and similar locations often have kitchens with ovens, which make them ideal locations to rent as a setting.
Anti-Valentine's Day
Of course, we don't want to forget those who prefer to celebrate Valentine's Day solo.

Self-care is the best care
Encourage everyone to show some love with a spa event, including mud baths, saunas, and a massage table. Coordinate with a local health club for suitable facilities, and invite a yoga instructor for an additional workout or even a krav maga master to teach some self-defense lessons.
Friends forever
Friendship doesn't get enough credit. Focus your event on celebrating pure, simple friendship, with a night of whiskey-tasting complete with an expert who can describe how whiskey's made. Or, rent out a go-kart track and host races among friends, with a trophy for the person with the fastest track time.
Anti-romantic comedy movie marathon
Host an anti-Valentine's Day movie marathon and show macho action movies with classic stars like Arnold Schwarzenegger and Steve McQueen, or go for a scream-your-lungs-out horror show with movies like "The Omen" and "Carrie."
Loving Valentine's Day Events
With Valentine's Day close and getting closer, there's no time to waste. Create your event and show how and who you love.