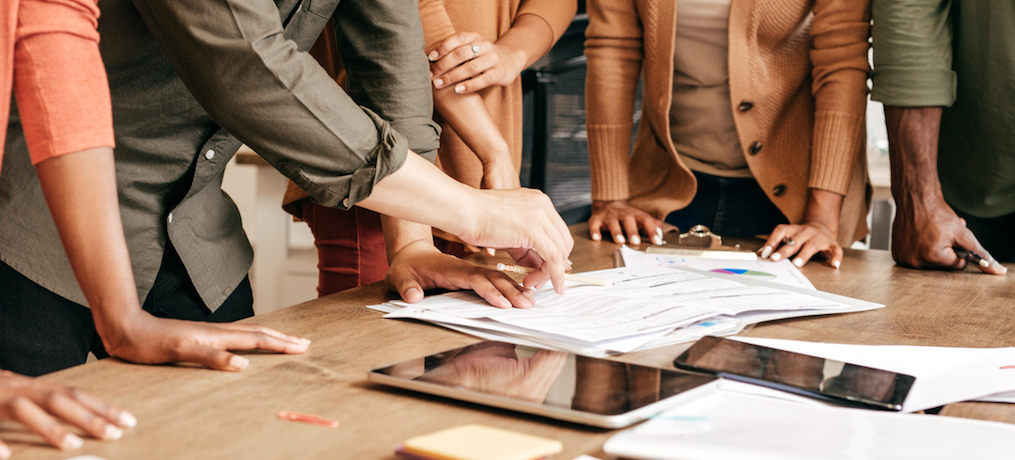 This is a guest post by Joshua Zerkel, Head of Global Community at Asana and Certified Professional Organizer.
It's hard to intimidate an experienced events expert. But even for the savviest of event professionals, a 29-event tour across 8 cities in just 2 months will do the trick.
As Head of Global Community at Asana, this is the challenge I and my colleague Logan LeVan set out to pull off in 2018. These events had to be done right, creating moments to connect with Asana customers and spreading our brand's message around the world.
With careful planning, we survived and led some awesome events—but not without some stress. Here are some pro tips we learned along the way about how you can work more productively no matter how many events are on your plate.
Make the goals of your event crystal clear
In order to make your events impactful and relevant, you need to connect them to your organization's greater purpose.
This was a lesson we learned quickly. When we began to enlist others to pitch in, we got a lot of questions like, "Why should I prioritize this over other work?" To answer the question, we tied every ask back to the fundamental reason we were throwing events in the first place: customer connection and advocacy. Once our coworkers understood why we were asking for help, they were not just willing, they made it a priority.
By creating events that are in clear support of company goals, you'll be seen as a champion for your organization. That ultimately makes your own life easier, because everyone else will jump in to help.
Get ridiculously organized around tasks and deadlines
Even just one event has a laundry list of things to do, from securing a venue to promotion and follow-up. I'm a Certified Professional Organizer®, so you might say that I have a knack for list-making. Still, with 29 events, keeping track of logistics was one of our biggest challenges.
Luckily, Asana is all about managing our work effectively. After all, we make tools to help people organize, track, and manage their work. So the first question we asked ourselves was, 'What is every single thing we need to do to make these events happen?'
We created a project for each event using our event planning template in Asana. We documented every action item from the big picture, like event date and time, down to deliverables and day-of details like food and registration sheets. Every action item was assigned to a person so it was clear who was responsible for what. We shared this project with everyone in the organization who would touch the event.
We also created an event budget spreadsheet, docs with travel details, and shared folders full of marketing assets. Lastly, we made a spreadsheet to track our weekly progress against registration goals.
This might sound like a lot, but you can't do this work successfully without tears unless you're organized. That level of organization helped me and our team stay sane.
Stay on task, but be flexible
No matter how clear your goals and how well-planned your events are, event planning and management is iterative. You can go in with a goal in mind, but you're dealing with a lot of moving parts, including partners, vendors, and speakers outside your team over which you likely have little control. You won't know how a new event series is going to go until you've done it a few times.
That means that no matter how well-organized you are, you need to be able to roll with the punches. Something unexpected always happens, so do your best to plan for what's under your control, and know that some things just won't be.
Also, don't be afraid to experiment and learn. Try different formats, different times of day, different sizes of events, knowing that not all of them will work, but that you can learn from. If you don't try new things, how are you going to learn and adapt? We experimented with the timing of our events, and quickly discovered that panel discussions do well in the evening, when people are keen to network. But hands-on workshops and productivity trainings perform better during the workday.
Dig deep for motivation 24/7/365
Sometimes, you're excited and motivated about your events and your job (the moment you announce a new event or develop a new event promotion strategy). And then there are times when your enthusiasm wanes or stress runs high (those fraught moments after you've opened the doors at an event when you're staring at empty seats hoping people show up). After all, you can create an excellent experience, but if the people don't come, it doesn't matter.
That's the moment when you take a deep breath. Recall your big-picture vision for your event. Why are you doing this? What do you hope attendees will get out of it? Planning events where we get to meet customers in person and share something of value with them is one of the best parts of my job. When I need inspiration, I think about the value that I'm creating not just for our business, but for our attendees.
In fact, I like to pass all my event ideas through what I call "the Josh test." If I were an attendee at this event, would I love it? Would I think it's a good use of my time? If the answer is no, I'm inspired to work harder to create something truly valuable.  
In the day to day, planning events can sometimes be both awesome and decidedly not awesome. Don't forget to have fun, and get through the challenging times by focusing on the bigger picture and what you're hoping attendees will walk away with.
Get more of my advice on event management by reading The Event Professional's Ultimate Guide to Productivity: 2019 Edition.