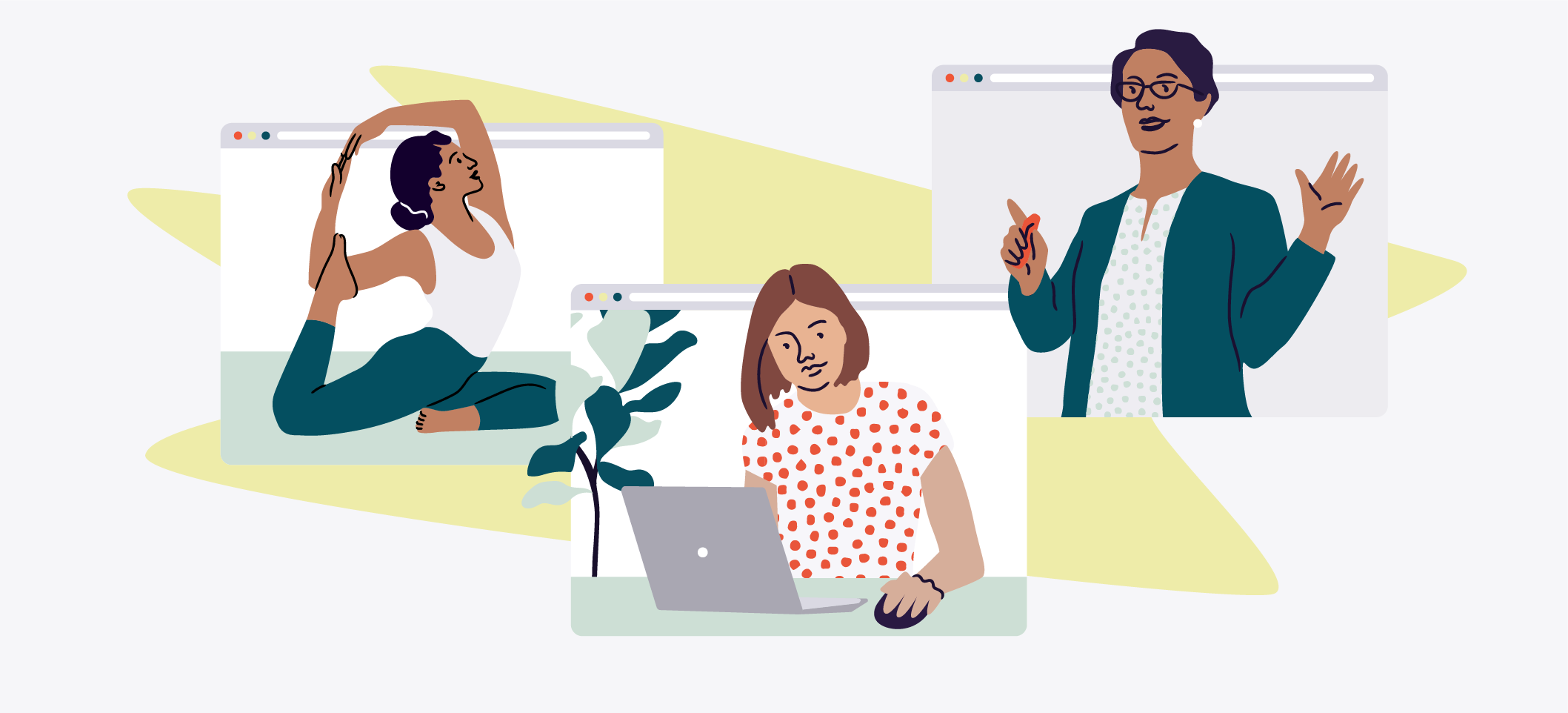 Since 1911, International Women's Day has celebrated the achievements and strength of women around the world. Events focused on women are a great way to bring colleagues and organizations together to honor the women of the past, present, and future and learn more about the issues women face today.
The 2021 theme for International Women's Day is "Choose to Challenge," which is inspiring creators to hold women's empowerment events that call out gender bias and inequality. We've come up with 10 creative International Women's Day event ideas that align with the International Women's Day goals of celebrating women's achievements, raising awareness against bias, and taking action for equality, which we hope will inspire you to organize your own amazing function.
Celebrate women's achievement
1. Host a Q&A with a group of successful women
Bringing together a group of successful and innovative women is a great way to showcase talent in a variety of industries. Follow our tips for finding great speakers to make sure your attendees are excited and engaged.
2. Put together a showcase or concert featuring works by women
Celebrate creative women by showcasing their artistic achievements in a concert, art show, or author reading. Consider different ideas for entertaining women's social events that highlight women artists. You can even curate the art you're showcasing according to a theme that fits with your events or International Women's Day goals.
3. Give a presentation on significant female figures in history
Everyone could use a little more background on the industry or sector they work in, especially when it comes to influential women. For International Women's Day corporate events with a tight budget, plan a lunch and learn where attendees dive into the stories of important women who lay the foundation for organizations like yours. Keep it close to home by inviting the women in executive roles in your community or company to share their experiences and role models.
4. Celebrate the women in your group or organization with a self-care event
Honor the women you see every day by planning a women's social event with the goal of rest and relaxation. Many spas have packages for corporate or group events, or you can reach out to local yoga and meditation practitioners to bring self-care to the group. Fitness and meditation sessions can often be streamed online, if necessary, and can help your colleagues take a break and claim some quality time for themselves.
Raise awareness against bias
5. Host a panel where experts and thought leaders discuss bias
If you're planning an International Women's Day corporate event, consider having panelists discuss an important topic like gender bias in the workplace. According to McKinsey's Women in the Workplace 2020 report, women, particularly women of color, are more likely to have lost their jobs during the COVID-19 crisis. Now, more than ever, organizations need to have frank conversations about the way bias impacts their employees.
6. Get children involved in a fun workshop
For family-friendly or school appropriate events, keep kids interested with activities aimed at their age group. We have a great guide for marketing events to today's parents, but once the kids are at the event, they're the ones you'll need to wow. Keep things interactive with a topical game such as Bingo designed around influential women in science or literature, or read books that promote girl power to young children. Give kids the opportunity to talk about what they know about International Women's Day and the ways they may have experienced gender bias.
Take action for equality
7. Interview a woman or woman-run organization making a difference
Women's issues intersect with other important issues in the world, like systemic racism and climate change. For your women's networking event, interview a woman or representative from a female-founded organization that's making an important difference in their industry. Choose someone who's successfully increased their organization's diversity, committed to providing sustainable products, or is working to effect change in our political or corporate systems.
8. Organize an author reading with women writers
The 2019 VIDA count demonstrates that gender disparities continue to persist in the literary community: only two major literary periodicals published 50% or more women in 2019, and one of those periodicals is now defunct. Hosting a reading, whether in-person or livestreamed, gives your audience the opportunity to hear great women writers read their latest work. In addition to the reading, you can set up a Q&A with the audience or pose prepared questions regarding important issues in publishing and the world such as bias or racism to the panel of authors.
9. Plan a workshop that focuses on inciting change in your community
According to the UN Refugee Agency, grassroots organizations are important for innovation. Inspire your attendees to get involved in local efforts and organizations to support women, and try some of our fun ideas to spice up your workshop and get people excited about giving back.
10. Host an event that directly impacts your community
Interested in raising funds for women's rights through your event? There are many great organizations to support, whether they're focusing on the growth and development of young girls or actively working on issues that impact women. To give back with a more hands-on approach, research local women's shelters and volunteer your time or find out what donations they need the most. Many women's shelters are always looking for essentials like feminine products, deodorant, and shampoo and conditioner, so consider hosting a donation drive alongside your event. Since so many women have lost their jobs due to COVID-19, host a women's networking event or job fair, offering help with resume writing and preparing for interviews.
Plan an exciting and meaningful event
Celebrating International Women's Day with women's events isn't about giving empty accolades to women, it's about raising awareness around important issues and celebrating the women who make our world great. Start planning your International Women's Day event with our event marketing platform.